Welcome to Barefoot Contessa
Kefalonia is a magical place, ideal for holidays at any time of the year, and is a top choice for refreshing getaways and contact with nature, the sea, and the cool Ionian breeze. The Barefoot Contessa furnished apartment complex, located in one of the most beautiful parts of the island, on Lourda beach, welcomes families or couples who want independence & peace, offering accommodation in spotless, furnished apartments that provide all the comforts of a country house combining an excellent location and direct access to the sea!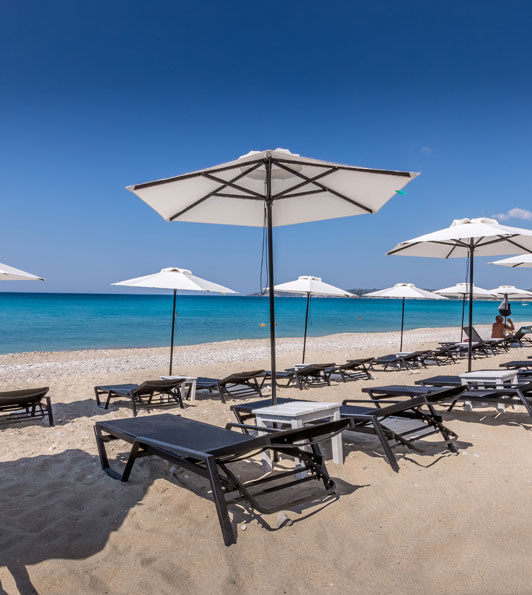 Barefoot Contessa: The top choice for comfort, independence, rejuvenation!
 
At the Barefoot Contessa apartment complex, you can choose double or triple apartments, standard or superior, with a private balcony overlooking the sea or the garden. Bright and airy, spacious, and well-kept, they offer complete comforts and the feeling of a private holiday home with direct access to a beautiful sandy beach. 
The complex owners have taken care of every detail, creating spaces where guests feel familiar and hospitable, feeling at home! The equipped kitchen provides the possibility of preparing family meals. The living room is the place where you can relax playing games or watching TV with the family. On the balcony, you will enjoy a unique view that takes your breath away. 
The complex is open from May 1 to October 23, and in the reception, the experienced staff provides all the necessary travel information for your stay and entertainment on the island.
The location
The compass leads us to the south of Kefalonia, 17 km from Argostoli, to one of the most beautiful beaches on the island, the famous Lourda beach, where the Barefoot Contessa apartment complex is located. In a large estate with a garden, its excellent location will totally excite you, as it is only a 5-minute walk from the golden sandy beach, embraced by the fir-covered Ainos and the turquoise sea! You only have to get a towel and the children's toys and walk to the organized beach, with the safe and crystal clear waters! The ultimate feeling of carefreeness is in Barefoot Contessa! 
Being on the covers of travel magazines, Kefalonia has become the setting for several movies. The uniqueness of the nature and the beauty of Kefalonia make it one of the most popular tourist destinations, ideal for families with children, due to its safe waters. 
With a long historical route, the largest of the Ionian Islands is distinguished for its unique architectural design, beautiful villages, incredibly clean beaches, impressive seabeds, stunning caves, and dozens of entertainment and recreation opportunities that suit all tastes. Sailing cruises, canoe tours, hiking, and climbing, as well as gastronomic delights with local delicacies and excellent Robola wine, are just some of the unique moments you will experience.